Beliebte Größe Schneidemaschine 4m * 2m Wasserstrahl Schneidemaschine
Verpakung:

4m * 2m Wasserstrahlschneidemaschine weiche Verpackung oder entsprechend Ihrem Antrag.

Marke:

KOPF

Ort Von Zukunft:

Liaoning, China (Festland)

Versorgungsmaterial-Fähigkeit:

30 Set/Sets per Month 4m*2m waterjet cutting machine
Produktbeschreibung
4m * 2m Wasserstrahlschneidemaschine Schneidprobe: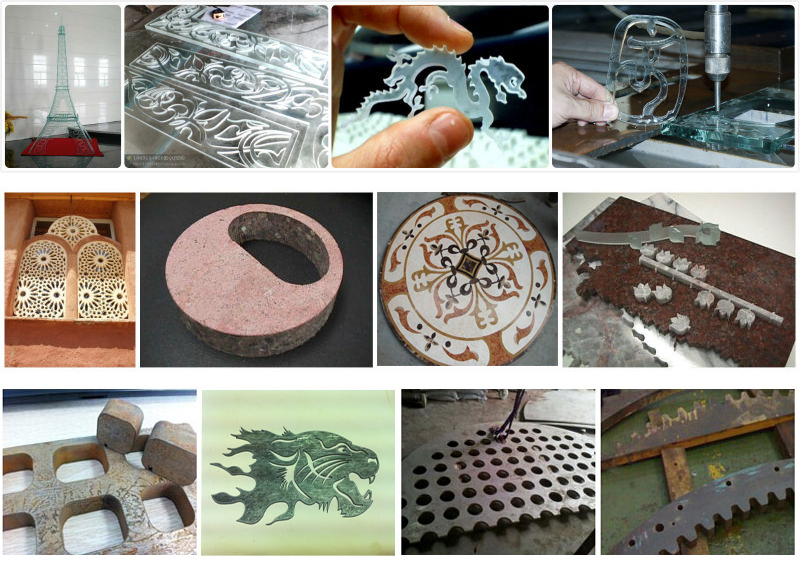 Produktbeschreibung 4m * 2m Wasserstrahlschneidmaschine
Main technical parameter of waterjet cutting machine

Intensifier Pump 

1.Pumps are imported from American Accustream company with advanced & reasonable structure and high stability.

2. Integrated heat exchanger, high heat exchange ratio and good effect, control the temperature of the hydraulic oil within the limit

3. Two-stage water filter(5um,1um,0.45um)minimizes the damage of impurities to high pressure seals, nozzles and other parts.

4.Two step-up water supply to make sure the pressure, automatic alarm and protection function when water is inadequate avoid the damage

5.Multiple filter for outlet oil and return oil, pollution alarm, oil cooling and oil temperature alarming ensure the continuous operation

6.Flexible connection between the main motor and pump eliminates eccentricity and absorbs vibration to ensure its long-term reliable operation.

7. Large capacity accumulator, assuring the system pressure much more stable, cutting efficiency much higher

 Model

HEAD38030Z/42037Z

Intensifier

USA imported

Method of Direction Regulation

Electronic Direction Regulation

Max cutting pressure

420MPA

Max oil pressure

19Mpa,21Mpa

Max water discharge

3.7L/min,3.8L/min

Max oil discharge

90L/min,106L/min

Power Source

380V/50HZ

Max diameter of orifice

0.33mm,0.35mm

accumulator capacity

1.0L,1.2L

The oil pump type

Automatic variable hydraulic pump

Cutting Table

 1. Separate body between cutting table and load-bearing platform prevents interfering cutting accuracy.

 2.X beam of cutting table applies the one-off extrusion forming aluminum alloy, light weight, strong steel, not deformed.

3. Cancelling dustproof cloth on X, Y, Z axis and hiding Y axis towline greatly improve the machine life and save the maintenance cost.

4. Motor and ball screw are directly connected by flexible coupling. It can absorb vibration energy reversible and with higher drive accuracy.

5. Using high-quality international brand ball screw, linear guide transmission structure to ensure the moving speed and accuracy.

 Item

 Character

Machine type

 Bridge style and Cantilever style

Way of drive

 Servo drive( drives and motors are Yaskawa brand from Japan

Ball screw and linear guide

ABBA brand from Taiwan

Processing range:

Bridge style: X axis 2000mm-30000/ Y axis 2000mm-6000mm

 

Cantilever style: X axis 1000mm-1500 Y axis 2000mm-4000mm

Z-axis travel journey

150mm

Controlling accuracy

0.01mm

Cutting accuracy

0.1mm

Re-position accuracy

0.02mm

Max traveling speed

6000mm/min

CNC Controller

1. Industrial control computer: high reliability, convenient man-machine dialogue, real-time control of the cutting process

2. CNC control, apply 19 inch LCD. facilitate operators to observe and reduce visual fatigue.

3.Appropriate height of operating desk, reasonable display angle, and 180-degree horizontal rotation for easy operation and viewing

4. Replace the relay with PLC, with a computer communications, flexible control

5. Professional waterjet cutting software, easy to operate , easy to learn, and practical.

6. Support DXF file ,can use AUTOCAD to produce DXF file

7. use IPC and the professional software based on windows XP

Accessory and optional Items

Automitic Abrasive Feeder

                               Advantages

                  

1. Can supply the cutting sand quantity according to the adjustable sand level location tube

2. No need electronic control, simple operation, reliable, maintenance-free

3. 200liters capacity can provide enough sand for 8 hours continuous cutting

4. Need less than 0.2Mpa compressed gas pressure,sand amount evenly, delivery smooth

5. It is the standard components of HEAD water jet

Deionization System

Advantages

                    

1. Professional deionization system for water jet use

2. Remove the calcium and magnesium ion, can improve the useful life of HP seals, orifice

3. The outlet water amount can be 2ton/hour,can supply more than one machine

4. Simple structure and reliable sealing, reasonable design of the flow passage

5. Single tank control valve,no water pass the valve in washing

Wireless remote control handle

                               Advantages

            

1. WHB06 the wireless remote control handle special design for HEAD waterjet control system

2. It can realize wireless controlling water jet and long-distance materials processing

3. With display function,real-time display X.Y.Z axis workpiece  coordinate, mechanical coordinate,speed,step value.

4. Can set workpiece zero ,back to zero point, back to mechanical zero point,feed speed adjusting

5. Adapt high performance wireless transmission technology,frequency hopping transmission.

  Update cutting solution- dynamic cutting head to protect the complete vertical cutting

1.HEAD 4-axis, simple structure, small volume,light weight,high precise

2.750w Japan YASKAWA servo,high power,high precise,fast corner speed,perfect walking curve

3.Adopt mini-type high precise Omron proximity sensor,high positioning accuracy ,fast induction

4.Newest dust proof structure design,make sure that the rotational system,slide system is inclusion-free

5.equipped with the Japan imported bearings,all these improve the using life,guarantee the motivation precise

6.Adopted the domestic most advanced water jet 5 axis cutting software,strong function and good cutting result

7.Manually adjust the angle of the cutting head,the precision is between ±6°,assure the best cutting quality in any case.
Inspektion Um sicherzustellen, dass HEAD Waterjet Schneidemaschine gut laufen kann, haben unsere Techniker eine Reihe strenger Inspektion vor dem Versand gemacht, wir verwenden die genauesten und fortschrittlichsten Prüfgeräte, so dass HEAD Waterjet Schneidemaschine den internationalen Standard erreichen kann, um den Anforderungen der verschiedenen Kunden gerecht zu werden.

Unsere Dienstleistungen Ingenieure zur Verfügung Maschinen-Service in Übersee für 4m * 2m Wasserstrahl-Schneidemaschine
Technische Ausbildung:
1. UHP Intensifier Prinzip
2. Einleitung aller Teile
3. Verschleißteile ersetzen
4. Beseitigung der normalen Schwierigkeiten
5. Tischpflege
6. Ein-Aus-Ventil, Schneidkopf und Abrasiv-Controller Wartung.
7. Zeichnung Design und Programmierung
8. Softwarebetrieb, Parametrierung und Speicherung
9. Betriebsmittel

4m * 2m Wasserstrahlschneidemaschine

Zertifizierungen

Wir haben mehr als 20 Arten von Modellen, willkommen zu Ihrem mehr Details Anfrage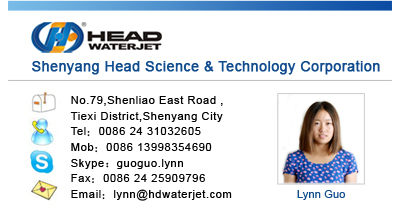 Produktgruppe : Wasserschneidemaschine